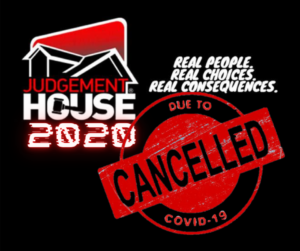 Judgement House 2020 & COVID-19
Every year, we look forward to connecting with our own Church family, other Churches and individuals throughout the community at Judgement House (JH) and sharing about real people, choices and consequences and redemption through Jesus Christ in JH. But given the growing concerns around COVID-19, we've (prayed..spent time in prayer) and made the difficult decision to cancel this year's production.
This was a tough call to make because JH is an incredibly important ministry for Southside and it's one of our favorite ways to celebrate lives being eternally changed. With current state regulations we felt the need to protect the health and safety of our guests, actors, counselors, volunteers…anyone who comes to or helps put JH on. We explored other ways to try and have Judgement House this year, either by in-person or by video, but it's important to us to host an inclusive experience and it didn't feel right to have JH in either of these formats given the circumstances.
We remain committed to the production of Judgement House at Southside, and to all of our guests that have come over the years.
In place of the in-person Judgement House, we're planning other ways for our church and community to get together through a combo of locally hosted events, videos and streamed content. We'll share additional details on our plans in the coming weeks. Sign up here to have updates emailed to you directly. In the meantime, thanks for your patience and understanding — and we look forward to seeing our Judgement House Family in 2021!

Judgement House is a walk-through drama that presents the truth of people's choices versus the consequences of those decisions both in this life and the next.
FREE

Recommended for ages 13+ (6th grade & older)

Concessions and childcare available
FAQs
What is the theme this year (2019) for Judgement House?
"ALONE"
We all feel alone and broken at times, especially when we experience the loss of those closest to us.

What is Judgement House?
Judgement House is a walk-through drama that presents the truth of people's choices versus the consequences of those decisions both in this life and the next.

How long does it take to go through Judgement House?

What age can go through Judgement House?

Can we squeeze just 1-2 more people into an already full time slot?
As much as we would like too, we can't. A full time slot consists of 30 guests, 2 guides, actors and people that are behind the scenes. Not only for safety concerns, but for the guests, we want our guests to be able to experience JH fully with the ability to see the events taking place.
Additional people in the scene may inhibit the experience.
We will do our best to schedule an additional time for you.

It looks like the day/time we wanted to come is booked up! What do we do?
Come anyways- as a walk-in! We will work you in (sometimes another group has to cancel unexpectedly or not as many could come as hoped and opens up an available time!) Just be willing to be patient & flexible!

Do I have to bring my printed ticket to the event?
If you want to, that's fine, but we will have a list with your information on it.

Can I update my registration information?

Is it ok if the name on my ticket or registration doesn't match the person who attends?
When entering your information, enter the Church or Group you are attending with or "Individual" in that section, plus your contact info.